Elegant, minimalistic, refined. Black, and white. Monochromatic delivers a two-in-one package to adorn iPhone and iPad for any occasion and any style.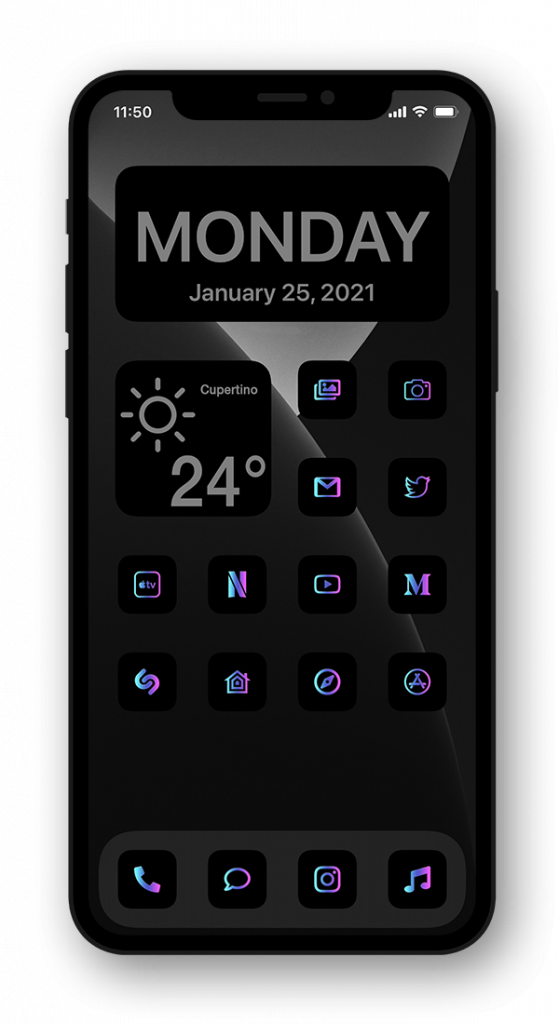 The pinnacle of elegance and class resides incontestably within the monochrome, which is carefully orchestrated in Monochromatic.
However, sometimes a drop of specially selected colour can make all the difference on an otherwise lack lusting day. For the adventurers out there, the thrill seekers and the highly attuned creatives – presenting Radiance.

Radiance is also bundled with a super-sleek white version, which will leave your iPhone and iPad looking like the latest futuristic gadget on the block.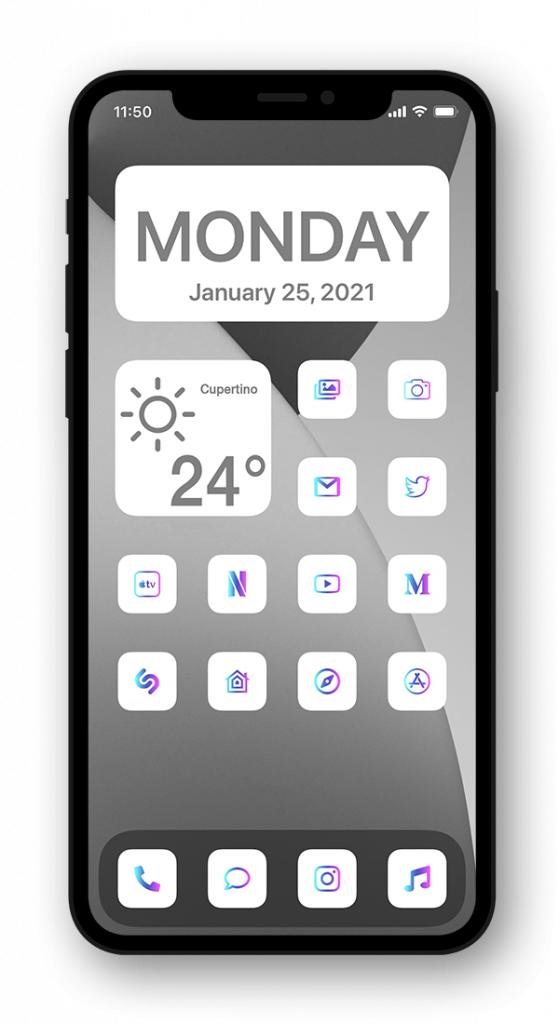 There's an icon for that...
1Password
Activity
Airbnb
Amazon
Apple
Apple Maps
Apple Music
Apple TV
Apple News
Appstore
Audible
Babbel
Books
Calculator
Calendar
Camera
Cam Scanner
Chrome
Clock
Coffee
Contacts
Crypto
Deezer
Deliveroo
Discord
Disney+
Dropbox
Duolingo
Ebay
ESPN
Facebook
FaceTime
Files
Find My Friends
Firefox
Forest
Friends
Github
Gmail
Google Drive
Google Maps
Google News
Health
Headway
Home
Instagram
Kindle
Lastpass
Linkedin
Lyft
Mail
McDonald's
Medium
Messages
Messenger
N26
Netflix
Nike
Outlook
Paypal
Philips Hue
Phone
Photos
Pinterest
Podcasts
Prime Video
Reddit
Reminders
Revolut
Safari
Settings
Shazam
Shopify
Skype
Slack
Snapchat
Sonos
Soundcloud
Spark
Spotify
Steam
Stocks
Strava
Stripe
Telegram
Tesla
Things
Tidal
TikTok
Tinder
TransferWise
Translate
Trello
Tumblr
Twitch
Twitter
Uber
Uber Eats
Viber
Vinted
Voices
VSCO
Wallet
Watch
Water
Waze
Weather
WhatsApp
WordPress
YouTube
Yuka
Zoom
Zwift
And more to come…